Stainless steel is a well-known material for use in industrial applications where corrosion resistance, high strength and low cost are required. The most common stainless steel alloy used for structural applications is 304, 316 and S460 grade. These grades vary by their chemical characteristics e.g., Type of carbon included in the alloy, structure, crystal lattice, etc.
Therefore, it is imperative to select the correct tension system that will meet the demanding load requirements of your project. Qwares manufactures various types of adjustable stainless steel tension systems to provide you with the most suitable tension accessories for your design needs. Our products are used in many diverse industries including structural industry and safety manufacturing facilities as well as construction and bridge buildings.
Stainless Steel Structural Tension Rod System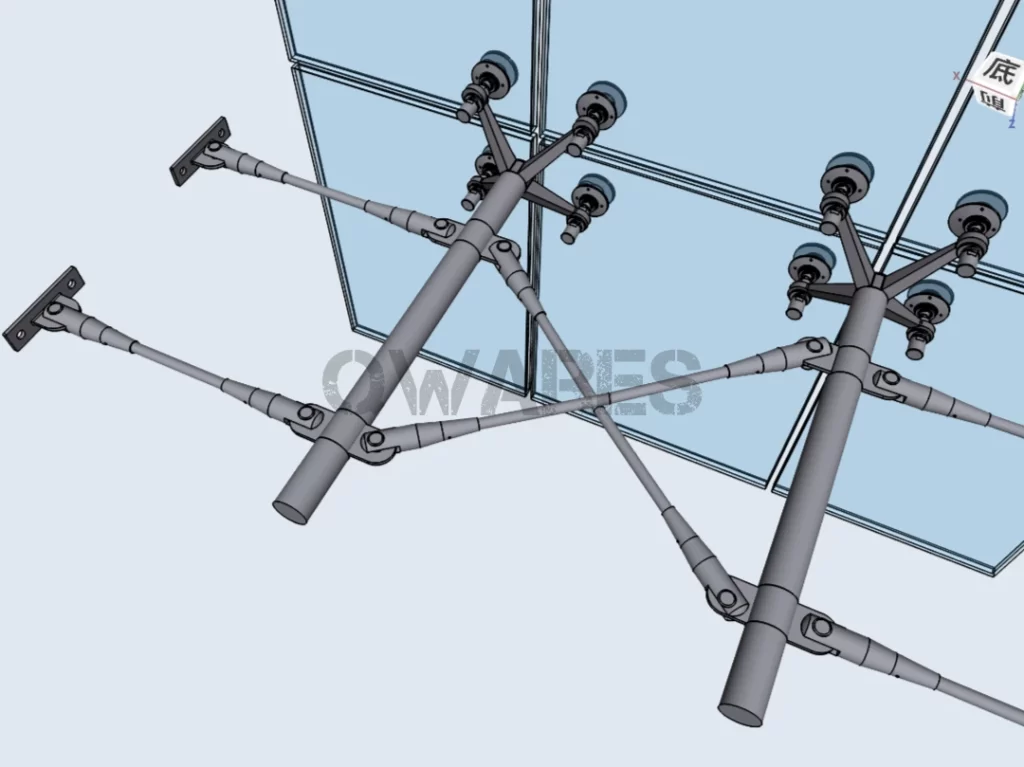 Stainless steel tension rod systems are one of the most common ways structural engineers design buildings with tension in mind. These rods are often used in buildings to help maintain a structure's shape and stability. In buildings with multiple stories, these stainless steel rod systems may be installed at the top of each story or at ground level, depending on the building's design and needs. Stainless steel can also be used to create a series of cables or chains that suspend or support a building's load-carrying elements such as glass facade and canopy.
Stainless Steel Tension Rod Details
Dimension: The tension rod diameter from Ø8-Ø32mm, download the drawing below;
Length: Measured between the centers of the fork pins 3000 – 6000mm;
Material: Stainless steel 304, 316 grade, satin or middle finish.
Custom Tension Rod Anchor & Connector Design
Qwares designs and custom manufacture anchor plates and middle connector in special shapes.
The tension rod connecting plates should be made from 2205 stainless steel below. It should take into account the corrosion properties of the material chosen. Standard isolation materials are provided with stainless steel tension systems to allow them to be fixed to connecting plates of a different metal.
SS2205 Mechanical performance: Tensile strength: OB ≥ 795MPa, Yield strength OB = 550MPa, Extension rate: 6≥15%, Hardness ≤310 (HB)
Tension Rod System Installation
It is recommended to attach the tension bar to the ground first, then lift them up into place over the connecting plate.
The locking nut should be completely tightened. Screw the bars into the forks. Ensure they're fully engaged by tightening them down. Use an open-ended spanner of the appropriate size.
Assembling the entire system, without any additional parts, to the required pin to pin dimensions.
You should lift the complete assembly up over one connecting plate, without any excess sagging. Use lifting equipment or temporary supports if necessary. Then secure the system in place with pins.
Repeat the procedure at the other connection. Finally adjust the bars so they're parallel to each other and perpendicular to the frame. Tighten the lock nuts against the forks (and coupler if used) until no threads are visible, then tighten them down further.
Stainless steel Tension Cable System
In order to design buildings with structural tension in mind, structural engineers typically use a tensile fabric. This is a steel cable that can be arranged in different ways so it creates tension across the building without increasing the weight of the structure.
Qwares can provide you with customized solutions that match your design requirements and budget by modifying our standard designs accordingly.
Qwares offers complete stainless steel tension cable systems from diameter 3mm to 300mm, for industrial and commercial applications, as well as the necessary accessories to install them in an efficient manner. Stainless steel tension cable systems are available in three grades: 304, 316 and S460 grade.
More Architectural Glass Systems