Are you tired of buying cheap and simple handrail brackets from Amazon? Then you should check out our factory in China. We make high-quality custom handrail brackets for any type of glass railing system.
Our factory has over 20+ years of experience making handrail brackets. We've made thousands of glass brackets for top brands around the world. We also offer fast design service at a cheap cost.
What's the cost of stainless steel and aluminum casting mold for handrail brackets?
Stainless steel handrail brackets are stronger and more durable than aluminum because they have higher quality standards. The aluminum handrail bracket is cheap and suit for simple design with larger quantities.
If you need a custom handrail bracket, then we recommend using stainless steel casting mold. You will save money on mold costs.
Stainless Steel Casting Mold Cost:
US$300 – US$500,
20 Days Delivery Time(Usually);
Aluminum Die Casting Mold Price:
US$2,000 – US$3,500,
50 Days Delivery Time.
The price of the aluminum die-casting mold is higher than stainless steel. The reason for this is that the material cost of the stainless steel casting molds is much lower than aluminum types. In addition to this, the production process of the stainless steel casting moulds is also more convenient and flexible.
Glass Handrail Brackets Types
The glass handrail bracket is a simple yet effective solution for mounting a handrail onto the glass. These glass handrail fittings are made of stainless steel and come in various sizes and styles.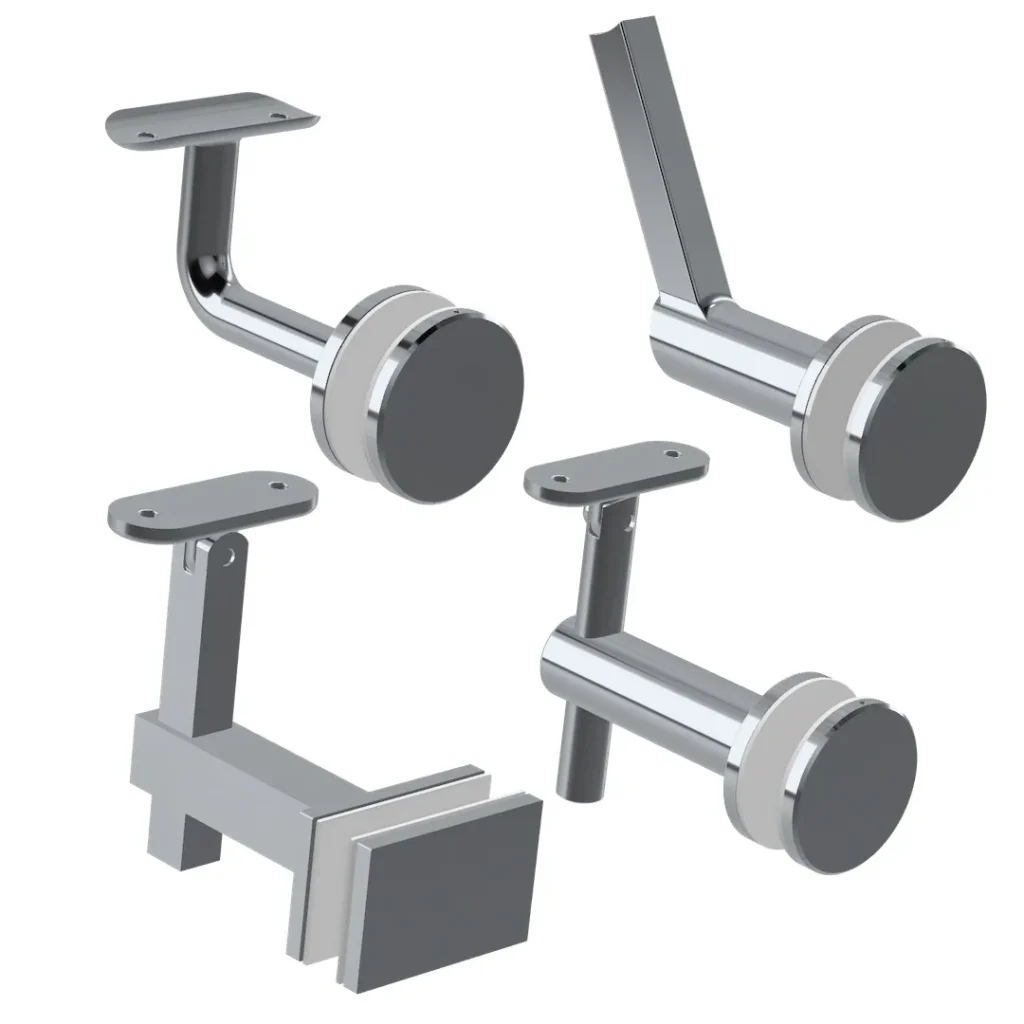 They are inexpensive and durable, making them perfect for railing applications. Stainless steel handrail brackets come in two main styles: round and square.
Round handrail bracket is usually manufactured by CNC, welding, or stainless steel casting.
Square handrail brackets, however, are often made by stainless steel precision casting process.
There are also custom handrail bracket models designed specifically for glass railing systems. These handrails are typically designed by the glazing railing projects dimensions with heavy loads. Custom handrail brackets are good ideal if you can not find the model at the market.
Stainless steel glass handrail brackets are available in different sizes and shapes. They are easy to install and maintain.
Here are some examples of standard railing brackets for glass. It's made of stainless steel and it stands up well against weathering and corrosion. It's also very strong with different surfaces.
How to Custom Made Glass Handrail Brackets?
We manufacture a wide range of stamped, extruded, machined, and handrail bracket products for use in a wide range of applications. These include handrails, staircases, balustrades, railings, guard rails, stairs, handrails, etc. When looking for glass handrail brackets, consider the following 5 factors:
Material: Choose between stainless steel 316, 304, or 2205 grade.
Style: Consider whether you need a round, square, curved, or adjustable glass handrail bracket.
Thickness: Select a bracket that matches the thickness of the glass glazing thickness you plan to install, available for 3/4",1-1/2", 2-1/4″, 2-3/8″,  3 to 3-1/4″ tempered glass, etc.
Finish: Choose a finish from satin brushed, mirror chrome, copper or bronze, or even matt black.
Design: Customization of handrail brackets that match your design. Qwares offers fast 3D design in 24 hous and rapid samples in 48 hours.
Handrail Brackets for Glass Design
Qwares designs all types of handrail brackets for glass. Our team of experienced designers can assist you with any project.
Stainless steel glass brackets feature sleek profiles with countersunk saddle holes for a streamlined design. Glass handrail brackets are available to suit round, square or rectangular handrails and are supplied with a strong load and anti-rust surface.
Qwares glass-mounted bracket allows you to mount a handrail flush against the tempered or lamianted glass panels. Adjustable angel design is available for easy installation.
This type of bracket is designed to work with both round and square handrails. You simply slide it into place and connect the handrail to the bracket.
The bracket is constructed out of solid stainless steel and features a beautiful brushed or mirror finish.
When you purchase our brackets, you receive everything you need to complete the installation process including the necessary screws and fasteners.
Additional Features & Specifications:
Stainless steel construction
Includes mounting hardware
Mounting holes included
Finished in a brushed silver color
Available in any size
Made in China with cheap prices and fast delivery
Glass-Mounted Handrail Bracket Installation Instructions
In a stairway guard application – 42″ high – codes will generally require that handrails be provided at a height between 34″ and 38″, depending on the type of stairs being used. In some cases, guards are required to provide a handrail along the entire length of the stairway. This is typically accomplished by providing a continuous rail along both sides of the steps. A single handrail is often sufficient for use on one side of the stairs. However, it is common practice to provide a second handrail on the opposite side of the stairs to assist those who are either elderly or handicapped.
With glass railing systems, these brackets permit attachment of brackets to the glass structural balustrade system. They are designed to accommodate the wide variety of glass railing systems commonly found in commercial buildings today.
Step 1: Remove the existing handrail if present.
Step 2: Measure the distance between the top edge of the glass panel and the bottom edge of the handrail. The measurement should be taken from the center of the glass panel to the center of the handrail. If there is no existing handrail, measure from the floor to the top edge of the panel.
Step 3: Drill two pilot holes through the handrail tube using a bit suit for supplied screws.
Step 4: Attach the bracket to the glass panel using the supplied gaskets and washers.
Step 5: Connect the handrail to the glass-mount bracket using the supplied bolts.
Note:
These brackets may require a hole to be drilled in glass which must be done before tempering. Attempts to drill holes in the glass after tempering will usually cause breakage.
When installing glass-mount brackets, make sure to correctly hole distance.
Conclusion for Custom Glass Railing Brackets
In conclusion, custom-made glass handrail brackets are a great choice for commercial railing projects who want to special look. With these brackets, you can easily install the brackets in your projects.
The beauty of these brackets is that they allow you to customize the look of your railing to suit your frameless glass style.
These brackets are available in a wide variety of styles, including traditional, contemporary, and industrial designs. They're also easy to install with fast delivery time.
Because of China's OEM factory experience, these brackets are of great quality and can withstand heavy loads and extreme weather conditions.
Our goal is to provide high-quality handrail brackets for glass at affordable prices. We offer fast shipping worldwide and a lifetime quality guarantee.
Contact us today to learn how we can help you complete your next railing project!