Structural glass fin curtain walls are becoming increasingly popular due to their aesthetic appeal, flexibility, and versatility.
The spider glass fins are ideal for small to medium-sized transparent facades where aesthetics are important. These spider glass wall systems combine the benefits of glass with the strength of steel.
Qwares glass fin façade systems are manufactured in many sizes: 200mm, 220mm, 250mm & 265mm. All sizes come with standard mounting brackets and are supplied complete with fixings.
The articulated swivel head glass fixing enables the connection of glass panels directly to the fixing points without the need for additional supports such as battens. The articulation reduces the stress concentration at the corners of the glass panel on the point-supported system.
The top/bottom glass clamps allow for fixed big laminated glass fin panels.
As a glass fin curtain wall supplier in China, Qwares designs and manufactures fin glass spider, tempered glass facade panels, and structural connectors below:
Fin Glass Spider Fittings;
Fin Glass Panel Connectors;
Tempered Fin Glass Panels;
The Features of Glass Fin Wall System
Transparent – Glass fins allow for natural light to enter while still providing privacy from the outside world.
Durability – The strength of glass is unmatched by any other material. It can withstand extreme weather conditions without breaking or cracking.
Strong- The structural glass clamp fixes the front glass wall panel and fin glass. The upper structure glass fittings carry all the weight of the curtain wall. And the lower support is not stressed. It makes the fin glass in a free state and coordinates the main structural deformation and curtain wall displacement. It can ensure the safety of the curtain wall structure.
Applications for glass fins include glass curtain walls, canopies, skylights, etc.
Glass Fin Curtain Wall Detail
Glass fins are used to support glass facades and enhance their rigidity. They can also act as supports for glazed roofs. In both cases, the post-breakage behavior of the glass fin is fundamental to ensuring the stability of the building.
If broken the glass fin must be designed with redundancy so that it works until replacement of the damaged false can be accomplished.
Laminated glass, typically in multi-layer constructions of 3 or more pieces of glass an interlayer, has been shown to function well in glass fin applications. The use of a structure PVB interlayer is recommended for this application due to adhesivity to the air and tin surfaces of glass and the continuous lengths of the interlayer.
How to Design Structural Glass Fin Glazing Systems?
1. Recommend taking toughened insulating glass as the glass fin wall panel because it has excellent thermal insulation properties.
2. Please use toughened laminated glass as a fin glass because of its safety features and resistance to bending.
3.Qwares® Adjustable design fin spider fittings made of stainless steel 316 are recommended, because of their strong corrosion resistance, and ability to absorb wind pressure deformation and reduce glass breakage.
4. Recommended Qwares® floating cap design thermal insulated glass wall spider bolts, because of easy installation& maintenance and good insulation.
5. It is recommended to use an 8mm thick stainless steel plate to hold the laminated glass fin, which has high connection strength and force transmission capacity.
6. 200, 220, and 250 series stainless steel fin spider are recommended, It has strong torque and load for the larger glass wall panel.
7. It takes the soft nylon or aluminum gasket to flex connect between stainless steel fittings and tempered glass. To avoid glass breakage due to rigid connections.
8. The silicone sealant has a better sealing performance. Coating it into the gaps of the glass wall panels.
9. It takes the M12 stainless steel acorn nuts and bolts to connect the fin glass, which can withstand big loads, suitable for large structural glass panels.
Model & Cost of Glass Fin Spider Fittings
200mm Fin Wall Mount Fitting
The 200mm fin spider is made of the stainless steel casting process, and the material is stainless steel 316 grade with a satin or mirror surface. The vertical glass hole to hole is 202/200mm, and the horizontal distance is 94/90mm from hole to fin spider. The model D90 design spider is for 90-degree glass corners, custom made for any degree corner is available.
200-202mm fin mount fittings come with the accessories below:
2 x M10x60 or custom length stainless steel 316 threaded studs screw;
4 x hex hole round matching cap nuts with adjustable thread deep 24mm;
Outside diameter Φ12 aluminum 6063(not plastic) tube to glass hole, the aluminum tube can be custom made;
Please check the thickness of the tempered fin glass panel to make the above accessories.
---
200mm Heavy Duty Fin Wall Mount Fitting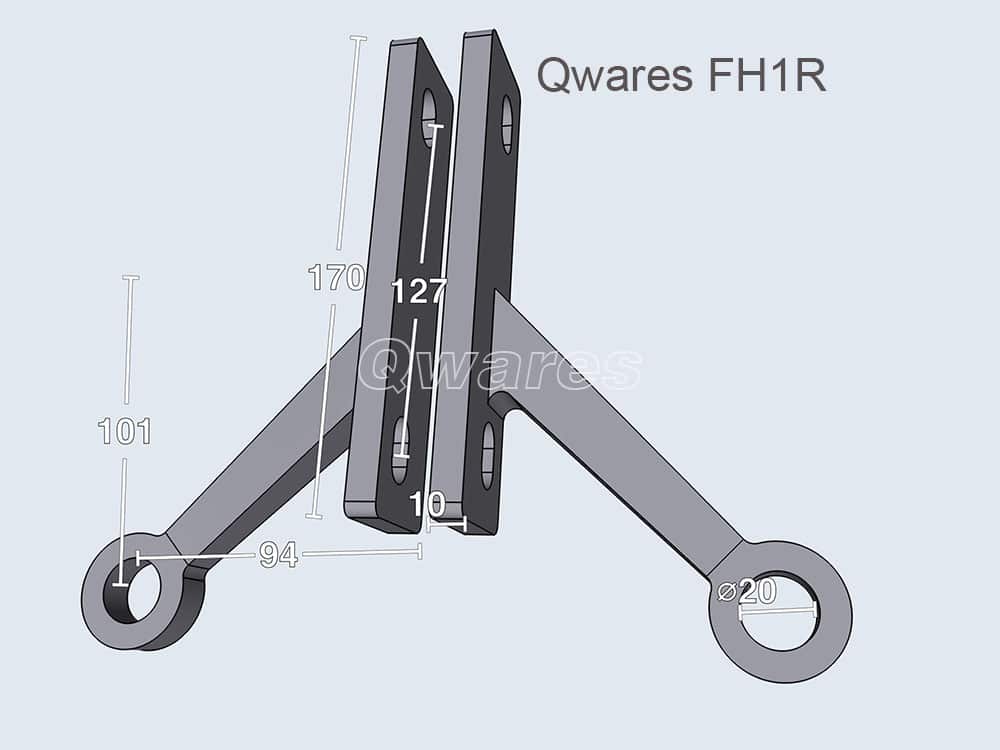 ---
200mm Regular Duty Fin Mount Spider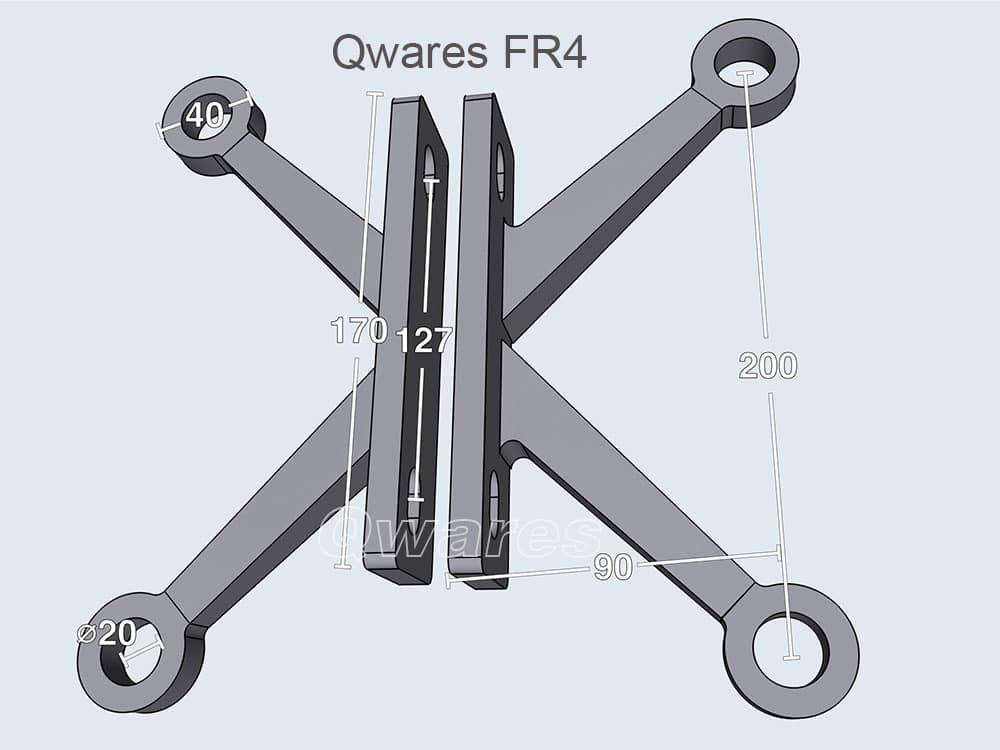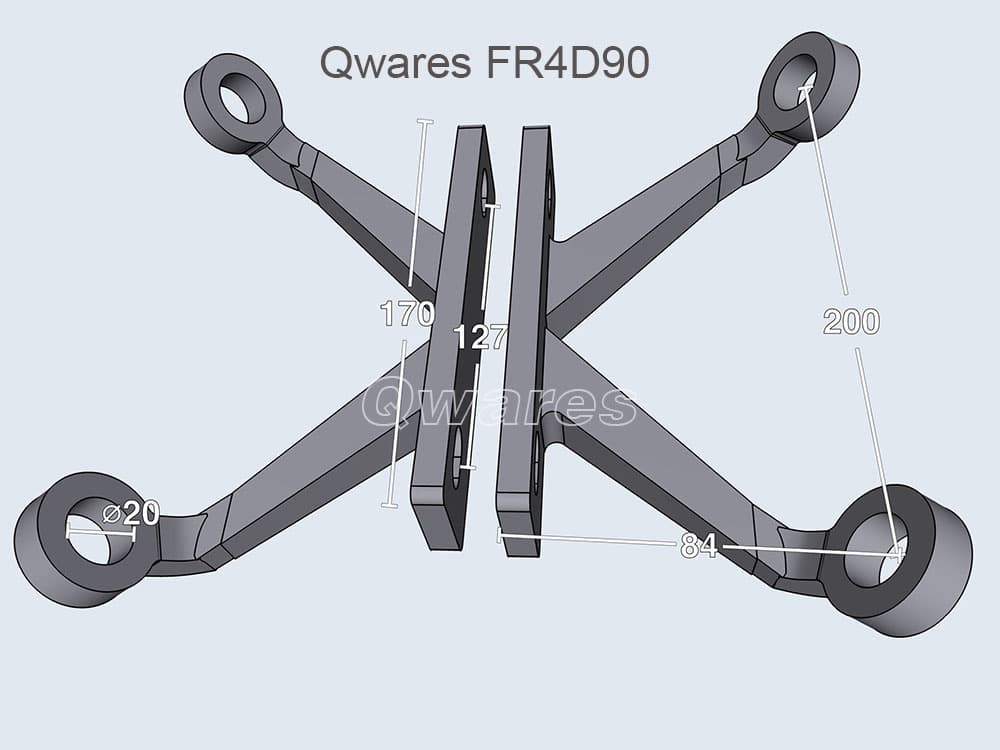 ---
220mm Fin Glass Spider Fitting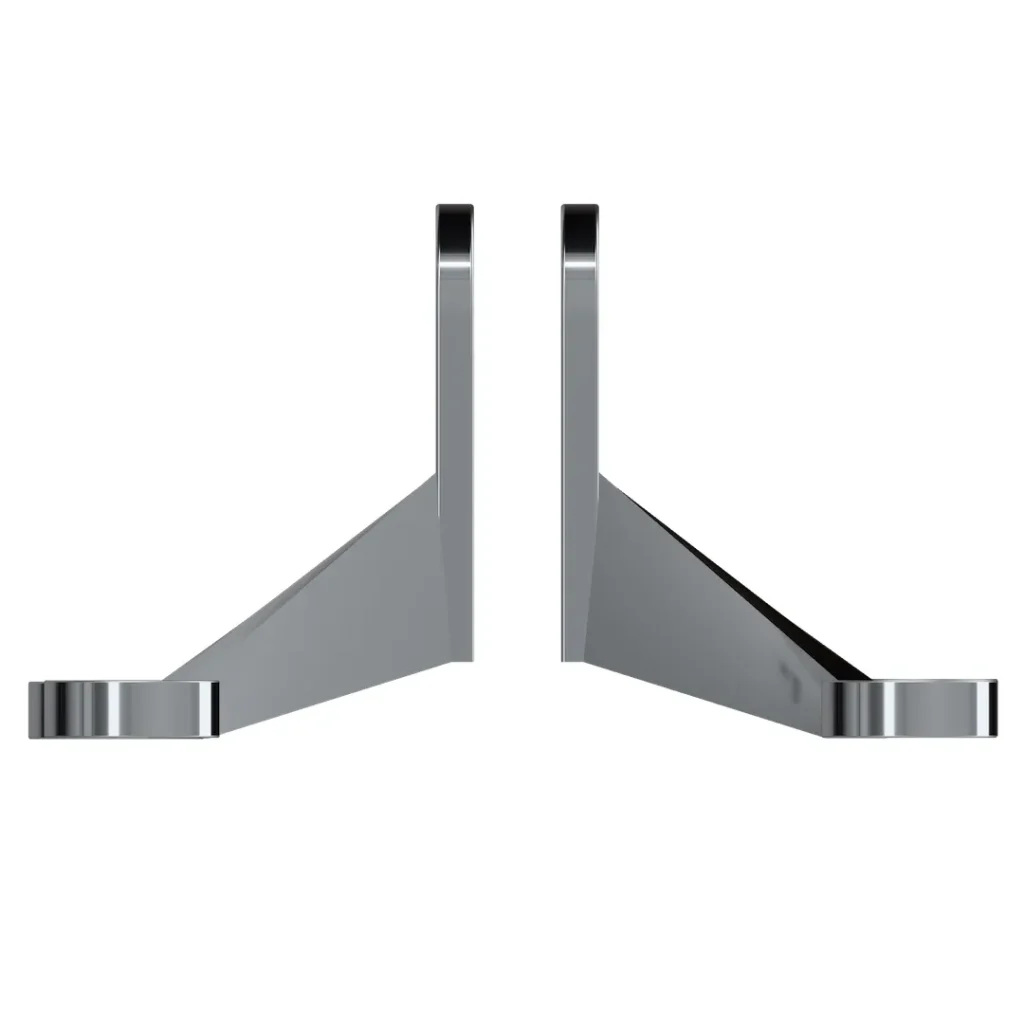 Glass-to-glass holes distance 220mm;
Fin glass hole 65mm;
L01/2/3/4/7/8 models for middle, up, and down glass fin walls.
---
250mm Glass Fin Spider Fittings
The 250mm fin spider is made of the stainless steel casting process, and the material is stainless steel 316 grade with a satin-brushed surface.
The vertical glass hole to hole is 250mm, and the horizontal distance is 117mm from hole to fin spider, the horizontal hole size will be 250mm with a 16mm thickness fin glass panel.
The model L2507/L2508 is for 90-degree glass corners, custom made for any degree corner is available.
Please check the thickness of the laminated glass panel to design suitable length screws.
---
Structural Fin Glass Facade Joints
Custom-made stainless steel sheet metal for fixing frameless glass panels:
---
More Architectural Glass Systems
WhatsApp us online Via the Bottom Right button.
The Qwares team will reply to your inquiry in 24 hours with the new design drawing by email.